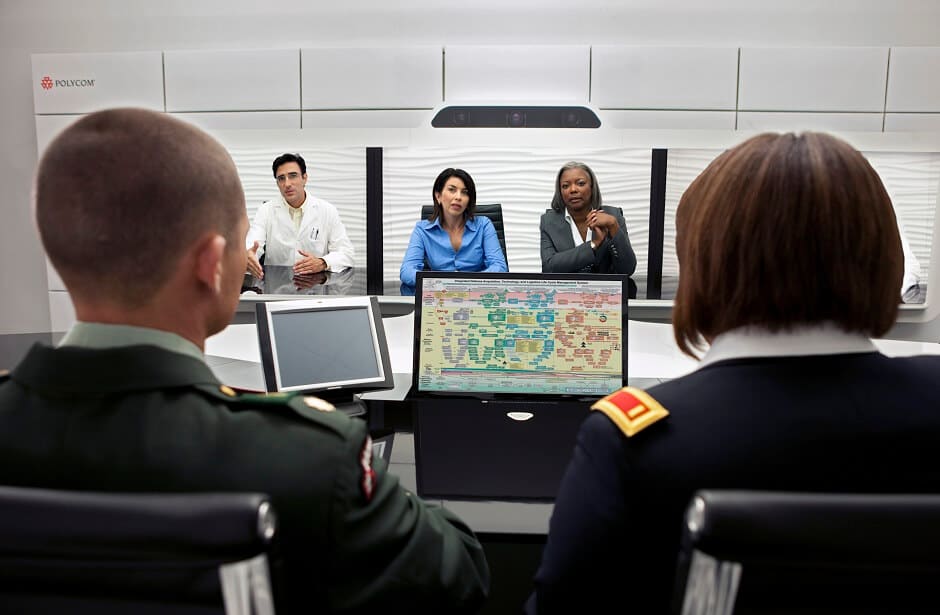 Unified Communications by ITG
Integration Technologies Group, Inc. offers VTC, Telepresence, Video Conferencing, Video Teleconferencing and Unified Communications products, services, and consulting.
Find the right Unified Communications solution for your organization.
Secure VTC Implementation
At peace, or war, Unified Communications provide the collaboration needed to meet the mission objectives.
Coupled with secure switching,the combination of Video Conferencing (VTC), Document and File Exchange and Topographical data provide a real time, true picture of the situation on the ground, wherever that may be.
Federal VTC Solutions
ITG is a federal government IT Services contractor that qualifies as a small business under the NAICS 541519 and enjoys a documented customer satisfaction rating of over 96%.
Our portfolio of completed projects and related technology know-how includes audio, video, and web conferencing solutions, both in military secure and civilian environments, coupled with time tested quality installation, training and maintenance services.
Our offerings include: Site Survey, Room Design, Recommendation and Sourcing of components, Integration, Implementation and Installation, Training, On-site 24x7x365 support, Preventive Maintenance and Technology Refreshes.
Benefits of VTC
As reported by Telework Exchange the organization announced the results of a new study, "Fly Me to Your Room: Government Video Conferencing Collaboration Report," which showcases opportunities for increased efficiencies and cooperation – as well as significant savings – by utilizing video conferencing.
Underwritten by Blue Jeans Network, the report reveals that if half of all Federal workers used video conferencing, they could save three and a half hours per week, and the Federal government could save $8 billion annually in productivity costs.
Our integration, design and implementation of world class collaborative solutions are at the core ITG's expertise, a fact proven by hundreds of related installations world-wide.
Unified Communications by ITG
Increase business productivity, reduce overall communications costs, deliver better service, and quickly connect with co-workers, vendors, partners, or clients from any location, at any time. As a world class integrator with more than 25 years of experience supporting federal, local and state government along with our commercial customers, ITG is ideally suited to provide global, remote collaboration solutions. Our vendor agnostic, standards based technologies can include components, software and services in fully interoperable environments.
As a Polycom, Cisco, Creston, Extron preferred partner, ITG has been selected as the prime contractor for the provision, installation and life-cycle support of multiple military Secure and civilian Telepresence systems
Top Video Conference Products
What is Video TeleConference
VTC (Video Teleconferencing), or more commonly known as Telepresence, provides the means for Unified Communications, a set of technologies which enable collaboration across geographic boundaries, increasing productivity and saving money.
Video Conference Integrated Services
Having performed hundreds of iterations of these services world-wide, we have achieved a record of impeccable performance and the respect of our customers and suppliers alike.